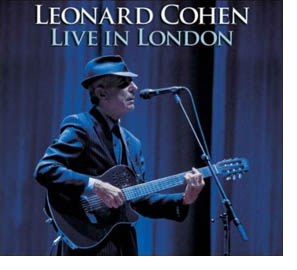 El canadiense Leonard Cohen publicará el 31 de marzo su primer disco en cinco años, un doble álbum en vivo. Live in London se grabó el 17 de julio de 2008 en el 02 Arena de Londres durante su última gira mundial. El álbum estará disponible en dos CDs y en un DVD. Cohen interpreta 26 canciones, incluidas algunas de sus clásicas, como "Suzanne", "If It Be Your Will", "I'm Your Man" o "Hallelujah". Información obtenida de EFEEME

Contenido de Live in London:

Disco 1

"Dance Me To The End Of Love "
"The Future"
"Ain't No Cure For Love"
"Bird On The Wire"
"Everybody Knows"
"In My Secret Life"
"Who By Fire"
"Hey, That's No Way To Say Goodbye"
"Anthem"
"Introduction"
"Tower Of Song"
"Suzanne"
"The Gypsy's Wife"


Disco 2

"Boogie Street"
"Hallelujah"
"Democracy"
"I'm Your Man"
"Recitation w/ N.L."
"Take This Waltz"
"So Long, Marianne"
"First We Take Manhattan"
"Sisters Of Mercy"
"If It Be Your Will"
"Closing Time"
"I Tried To Leave You"
"Wither Thou Goest"